How to positively employ veterans transitioning from the military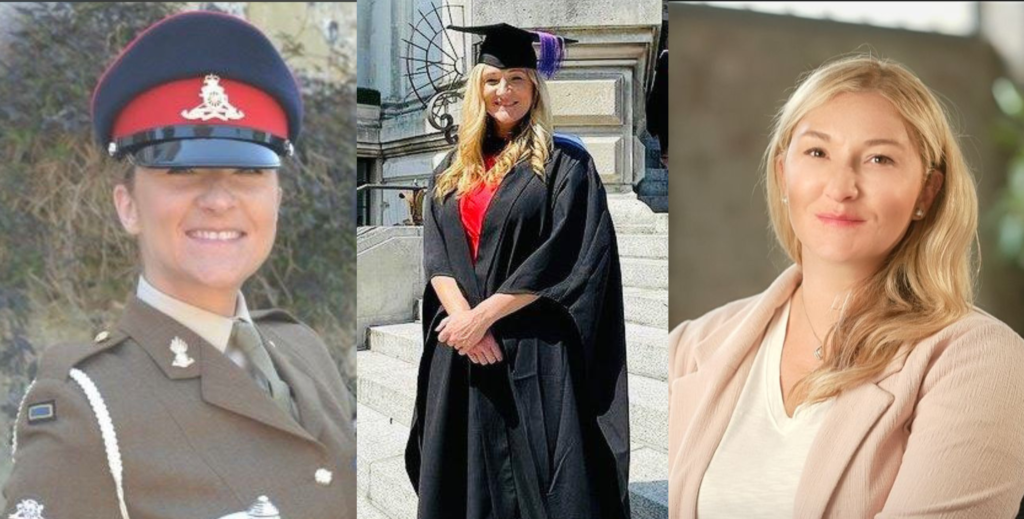 By Kate Mizon, Writer and Military Content Adviser
As a veteran of 22 years, post-service by 18 months, I have fallen into the 'job hopping' category. If you're not aware of what that is, then I'll explain. According to research, upon leaving the Armed Forces, almost 42% of veterans will take up between 3 – 5 jobs prior to 'settling'1, therefore 'job hopping'. Why?
Firstly, why transitioning from the military is tough…
Transitioning from the military is no mean feat. Regardless of how long we have served or how 'keen in green' we were, the Armed Forces, be it Army, Navy, or RAF, will have been a way of life adopted from day one of training. It's a bit like having a brain transplant; your brain out, green brain in - et voila, we're now a member of the Armed Forces. We're trained to fight and kill/capture, to defend, to act instinctively, to protect, to be in sync with our team. We have a routine; we're trained when to get out of bed, shave (where appropriate), eat, and exercise. We have daily orders to follow; where to be, what time/date, with whom, wearing what and holding X Y Z. If you fail any of the above, you're accountable to the system and punishable. We've changed. We're not 'normal' people (civilians) anymore. We've undergone high-intensity training to cope in high-intensity environments and situations. We do as we're told (most of the time) and we get stuff done because the consequences are catastrophic if we don't. We've had to work, live, and socialise with the same like-minded people, some of whom you may not like but nonetheless, you still crack on like a pro. We are disciplined, resilient and bound by our edgy wit and dark sense of humour. To me, having served 22 years, going back into the 'real world' that I left in my teens was like a cactus trying to make it as a balloon artist; prickly, still green, a bit rough around the edges but willing to grow. Naturally, I leaned into 'forces friendly' organisations like a homing pigeon, but unfortunately, my first two roles prior to going freelance had more hurdles than an Olympic track with no soft landing.
So, with that in mind, here are my tips for organisations to understand, challenge preconceptions and positively employ Armed Forces veterans.
1. Mental Health
It is well documented and publicised that Mental Health problems are present in forces personnel, veterans, and their families. Conflict, bereavement, injury, displacement, marital and relationship challenges will have taken their toll, but how we live with those experiences differ with the individual. However, to assume we're all broken is a disservice to all involved. Some may not have experienced any of the above so it's worth taking the employee (or potential employee) at face value. What they will disclose will be down to the individual, but what you can do is ensure that your support systems are in place, and you have levels of flexibility when it comes to working conditions.
Recommendation:
Be selective of your choice for the mental health first aider or champion. Having the correct person in the role is key for the support of all employees, not just veterans. Ensure you give them the time and capacity to engage and be creative with their role.
2. Visibility
In addition to the point above, assuming mental health problems are the result of conflict is inaccurate. There are many service leavers that have never deployed or had any involvement in conflict or war. 70% of servicewomen have sought mental health support for sexual harassment, Military Sexual Trauma (MST) and post-partum related stress disorders2. The above experiences do not discount men either. Bullying, although there has been significant work with values and standards, will still be a factor in mental health in addition to stress related mental health conditions.
Recommendation:
Ensure your bullying and harassment policy and training is up to date and adhered to. Try and steer away from the 'head nodding' briefs devoid of engagement and tick box online quiz, these allow people to switch off to get through it as quickly as possible. Be innovative, be bold and focus on impact.
3. High-pressure environments
We're human! Yes, we have worked in 'high-pressured environments', we've had to 'multitask on a variety of projects' and have been 'self-starters' and 'team players' but in service, we're given three weeks paid leave usually at the point of the steam beginning to scream out like a hob kettle. Can you provide seven weeks holiday/leave annually? Probably not. If you need 10 jobs doing at once, then hire 10 people or hire 5 people and pay them accordingly. Simple.
Recommendation:
Stop advertising for individuals to cope in high-pressures environments, as this really speaks volumes about the current team and the organisations' ability to manage. Veterans are accustomed to this but will have limited output in the long run and this is possibly why they have decided not to continue in service.
4. Military and Corporate language and behaviour differences
Again, human. We are likely to have resilience and a fair amount of stoicism, but this doesn't mean that we're not impacted by work overload, stress, behaviours, critique, personality clashes, and are more than likely acutely aware that we may not fit in straight away. What we will do however, is call out and confront behaviour, so this is something your organisation needs to be aware of and how to manage it. "Speak to HR' isn't our working language, 'I want to speak to you about your behaviour' is.
Recommendation:
Have understanding that the direct approach is not necessarily aggression, it's assertion and what we have been trained to be.
5. Life has changed!
In service life, many of us would have lived on camp/base and had a 5-minute walk - max. Not forgetting we would have to be there 5 minutes before, 5 minutes before the 5 minutes before. Of course, we were great at being on time when all we had to do is roll out of the door to our place of work. Life is different now. Now, we must commute. Yuk. We rely on public transport either getting us there with strikes, protests, roadworks that are like the DFS Sale – never ending, and more importantly, our personal lives will have shifted with leaving the area we served. Chances are, when the service person leaves the forces, they will inevitably be making way for their spouse/partners turn at focussing on their career and will have to take on the family responsibilities of school runs etc. I'm generalising slightly, but you get the point. Things – a lot, has changed and whilst we endeavour to always be superheroes and great at timekeeping, we can't change into our own mode of transport by spinning in a telephone box. (That's one for Gen X!)
Recommendation:
Veterans will undoubtedly be hating themselves for being late, don't make it worse, offer help and understand the massive changes that your veteran employee has undergone.
6. Spouses can be women, and men, and they are equally employable.
Gone are the days when the 'squaddie wife' wore her serving husband's PT tops as loungewear and worked in the Naafi cash in hand and smoked roll ups. Not that there is anything wrong with that, but this is not every spouse. Societal changes of 'allowing' women to serve over 3 decades ago mean the spouse can be male, and the acceptance of lesbian and gay personnel into the services 2 decades ago means that the spouse can be same sex. It's not rocket science, and it shouldn't need explaining but you'd be surprised at the narrative that still depicts the veteran as a male with a wife at home, and the school run and a trip to bingo on the 'to do' list. Recruit for Spouses3 is a training and recruitment organisation with an eco-system approach of getting spouses into meaningful remote and hybrid employment, whilst being on the move as part of the forces family routine. If your company offers such roles, then why not lean in? Having been both a veteran and a spouse, I can't tell you how frustrating it is to have to put life plans on hold intermittently, often with little notice, to accommodate the serving partner. It's a lifeline to have a purposeful and fulfilling role, especially when you have had to put your career on the backburner. Relationships thrive when two people have a career that engages them and supports their development. Could this be your company?
Recommendation:
Job hopping is on trend now, which is expensive for the employer to recruit and retrain. Focus on the employee and their family to increase staff retention.
7. Help your HR understand how to effectively recruit ex-Military personnel.
I once applied for a role that was 80% within my grasp in terms of experience and qualifications. I received an email to say I had made it through to the phone interview to 'ascertain my suitability to progress to the interview stage'. Great! The call came and I was asked about my relevant experience to which I rattled off my communications background, my tri-service experience and so forth. The response? "Sorry, but can you explain what tri-service is and is ISTAR to do with space?". Crikey. Ok, not her fault. I didn't make it to the face-to-face interview due to lack of compatibility. Go figure!
The point is, service personnel have a variety of qualifications, skills, and experience, and some of us may not know how to articulate these transferable skills or how they will benefit your organisation.
It would be helpful to yourselves and the service leaver, if your organisation could comprehend the unique experience that they can bring.
Recommendation:
Get a veteran or defence expert in HR or to consult with your HR, to at least be a sounding board/POC to translate the military speak, experience and qualifications.
8. If you endorse the Armed Forces Covenant, then be prepared to actively implement its principles.
Signing up to the Armed Forces Covenant4 is about supporting and understanding service personnel, veterans, and their families. Removing bias and applying logic to the CV that pings in your inbox, giving those that have served and their families a fair crack at the whip. Currently, for those who have the covenant emblazoned on their websites, there is no way of assuring they are engaging in any way with the purpose behind it. In my experience, I was told I was hired simply as an access tool for contractual work with Armed Forces regarding media and advertising. Furthermore, in a brief to the workforce, the MD explained we had the AFC (due to be added to signature blocks) "because we need to get more work from the Armed Forces". That is not what it is for. I terminated my employment for many reasons, this being just one of them.
Recommendation:
Appoint the right person or team to deliver the support and fully implement the Armed Forces Covenant. Genuinely represent the ethos and values and you will be rewarded by brilliant staff members.
9. Reward overtime work with fair compensation.
We're loyal, but service personnel are not paid well for what we do, or what we sign up for and we don't protest or go on strike, because we're not allowed to. Facts. We've had to work in some terrible conditions and work ungodly hours for no extra pay*, and one of the biggest adjustments upon leaving the forces is the security of your guaranteed monthly wage is gone. The 'X Factor 'is the package of care which comes with signing up; fuel allowance, healthcare, such as a dentist (remember those?), GP and injury rehab, cheap accommodation, and subsidised food plus 10% off at shops you rarely shop in. Life is expensive, so it's more of a shock when leaving the service and these 'luxuries' (funded with the purpose of getting you back to work) are gone. So, it's a bit cheeky when you expect your employees to work late because time isn't managed effectively, or someone has dropped the ball. This stands for all, not just companies taking on veterans, but please don't assume that overtime is expected for free because you supply tea, coffee, and hybrid working. A veteran will either call this out, taking their well-practised loyalties elsewhere, or commonly work themselves to the bone and burn out...taking themselves elsewhere.
Recommendation:
If you want to retain a veteran, then look at and appreciate what they can bring to your business.
10. Veterans have more talents than they advertise.
We have been thrown in the deep end more times than a brick on a kids swimming test. We have done it all. Foot and Mouth outbreak; Shifted slaughtered sheep in lambing season on the Isle of Sheppey – sure. Firefighter strikes; Drive a non-pressurised 1960's water tank on wheels with no power steering or seatbelts through Hemel Hempstead? No problem. Organise an event for 150 on a budget of 0.50p pp; consider it done, and we'll carry out risk assessment for 'fire-hockey' with chips and tap water. Operational tours with dual roles, admin, welfare, management, leadership and generally problem solving daily. Please value our experience and knowledge in pretty much everything. We're a talented bunch, and when trusted and given the responsibility, we can turn things around and make an impact for the better.
Recommendation:
Ask what isn't on the CV.
Conclusion:
There is no hard and fast rule when employing veterans.
The purpose of this was to remind you that we are human. Veterans are incredibly resourceful, talented, hardworking, reliable, receptive, unbiased, confident, resilient, honest to a fault and fiercely loyal people, and your company or organisation will be enriched by hiring one (or more). Just try not to assume or buy in to the narrative created by the media that we're all the same. Whilst we're cut from the same cloth, we're all unique in our training, experiences and ingrained traits which makes us highly capable, dedicated, and versatile employees.
Final Recommendation:
Employ veterans!
If you are a veteran seeking employment, or an organisation looking to recruit new staff, then DSET is a great place to expand your network.
Find out more and register at dset.co.uk
References:
Additional Info: